WIRV Morning Webinar – Interview Techniques: Questioning styles, effectiveness and the PEACE model
12 May @ 8:00 am - 9:00 am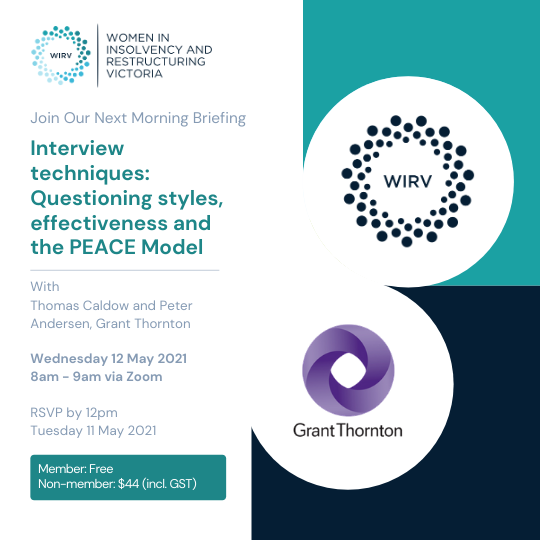 You are invited to our morning webinar to be held on Wednesday, 12 May 2021 at 8.00am.
Join us as we hear from Thomas Caldow (Senior Manager in Forensic Consulting) and Peter Andersen (Senior Manager in Risk Consulting, Certified Fraud Examiner and Certified Anti Money Laundering Specialist) from Grant Thornton, who will present a soft skill session focusing on basic interview techniques and styles, with practical application for members of the insolvency fraternity.
Please ensure that you book a place at the briefing below as a booking is required to secure attendance. Members can attend for free; non-members can purchase a ticket for $44 including GST.
If you wish to take advantage of this free event for members, click here to sign up as a member of WIRV. If you sign up as a member, your membership will be valid until 31 December 2021.
Please direct any queries regarding this event to the Professional Development Sub-Committee here.