WIRV Lunchtime Webinar – Neuro Hack your Brain
29 October, 2020 @ 12:00 pm - 1:00 pm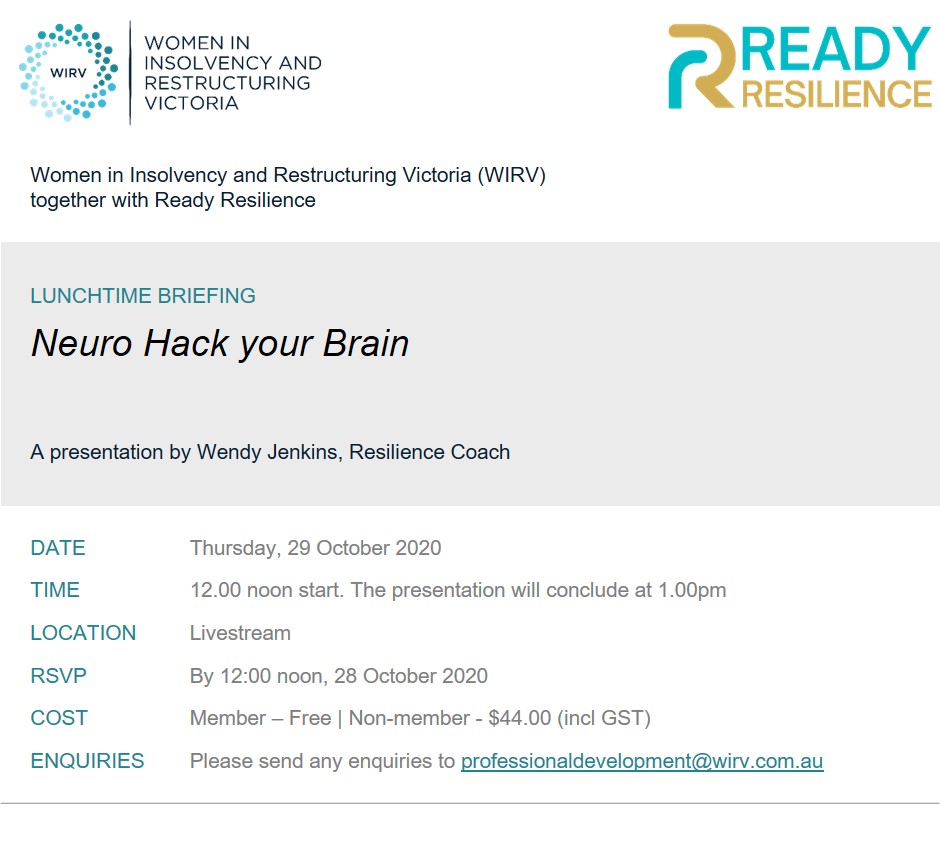 You are invited to our next webinar to be held on Thursday, 29 October 2020 at noon.
We are pleased to be joined by Resilience Coach, Wendy Jenkins. In this session, Wendy will share her passion for neuroscience-based resilience, and her hacks and tips to help busy people boost and sustain higher wellbeing and success.
Wendy has coped with an enormous amount of stress and uncertainty in her life:
✔ Given two years to live … over thirteen years ago
✔ Run several businesses & changed careers three times
✔ Sent to eight different schools & moved twenty times
People often tell her she's the most resilient person they know, however this wasn't always the case. Wendy will share her experiences with us and how she has built her resilience.
Members are able to attend the lunchtime briefing for free. Please ensure that you book a place at the briefing below as a booking is required to secure attendance. Please note that you will need to ensure that the email you use matches the email address held for you in our membership database. If the email address does not match, please log into your WIRV membership account and update your details.
Non-members can also purchase a ticket to the briefing for $44 including GST below.
If you wish to take advantage of this free event for members, click here to sign up as a member of WIRV.  If you sign up as a member, your membership will be valid until 31 December 2021.
If you have any queries regarding the webinar, please direct them to us by email by clicking here.